Pumpkin Pecan Pie Bars | The Recipe Critic
All of the goodness of pumpkin and pecan pie combine in these delicious dessert bars.  They are baked on top of a buttery shortbread crust and make one fantastic dessert!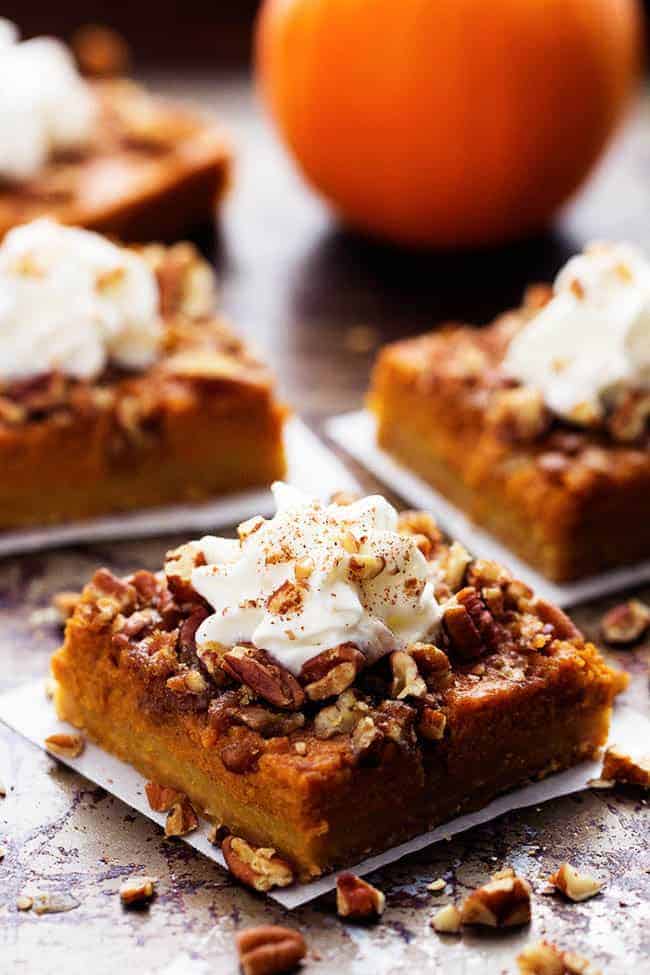 Fall is my favorite time of the year.  We have been having gorgeous weather here in Utah and we have been loving every minute.  We spend so much time at our neighborhood park.  My little girl (she's not a baby anymore ? )  loves to spend all of her time there going on the  "wee wee".  She is such a blast at the park and could stay there for hours.  I love the crisp fall air and the beautiful big trees in our park that have vibrant fall leaves.   It makes me sad that it will soon be cold and snowy and we will miss our days at the park.
I am soaking up all of my favorite things about fall while I can.  And as Thanksgiving is getting closer I am thinking of some delicious desserts that I can take.  Pumpkin pie is a must.  Pecan Pie is a must.  So it came to me…  I need to combine both!
All of the goodness of Pumpkin and Pecan Pie get fused together in this delicious dessert.  It starts with a buttery shortbread crust.  Then it is followed by a pumpkin pie layer and topped with a brown sugar pecan topping.  The brown sugar adds a caramel flavor as the bars cook.  And the result is pure fall perfection.
MY OTHER RECIPES
MY LATEST VIDEOS
I especially love bars because they are perfect for cutting up and feeding to a crowd.  You are going to love everything about these delicious bars.  If you love pumpkin pie and pecan pie then you are going to go crazy for these!!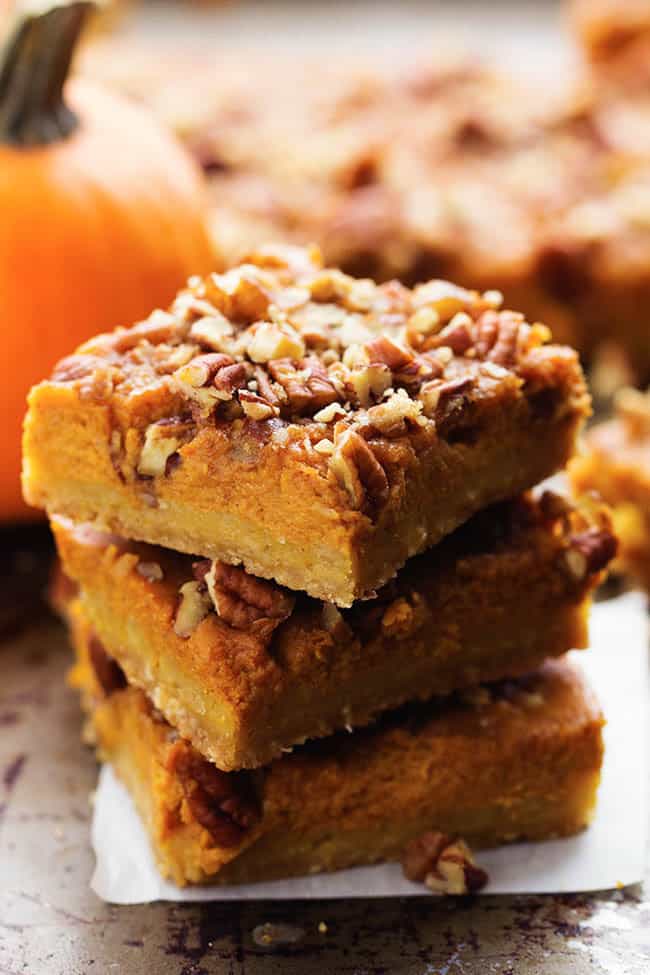 Watch a video on how Pumpkin Pecan Pie Bars are made here:
Pumpkin Pecan Pie Bars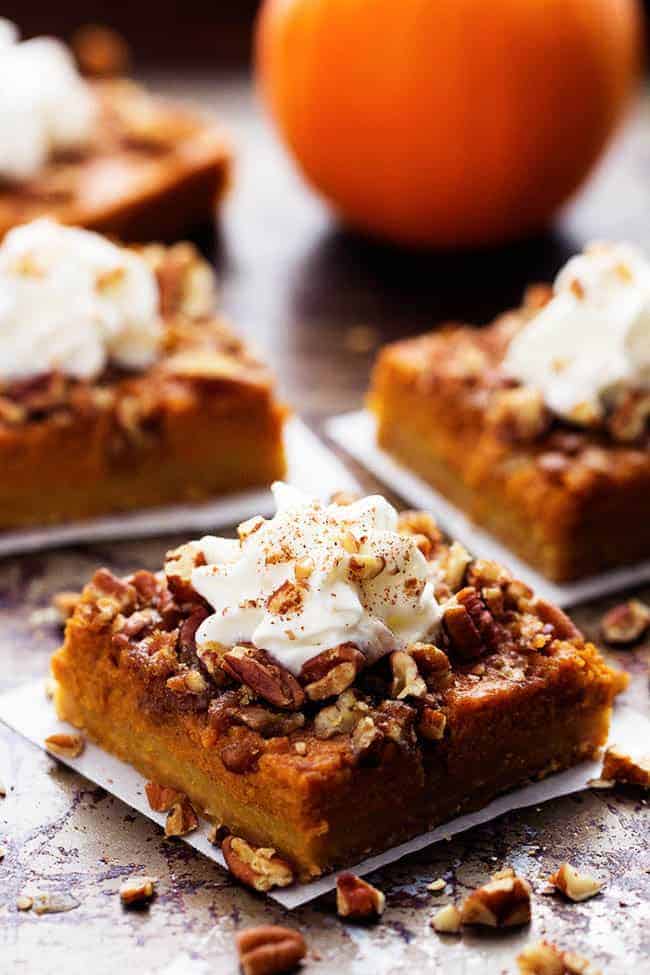 Shortbread layer:
1 cup all-purpose flour
½ cup old-fashioned or instant oats
½ cup packed brown sugar
½ cup butter or margarine, softened
Pumpkin Layer:
¾ cup granulated sugar
1 can (15 oz.) canned pumpkin
1 can (12 fl. oz.) Evaporated Milk
2 large eggs
2¼ teaspoons pumpkin pie spice
Pecan Layer:
½ cup pecans, chopped
¼ cup packed brown sugar
Whipped cream
To make the crust: Preheat oven to 350° F. Line a 9×13 inch pan with foil and lightly spray with cooking spray. Combine flour, oats, brown sugar and butter in small mixer bowl. Beat at low speed until mixture is combined and crumbly. Press into the bottom of your 9×13 inch pan and bake for 15 minutes. Remove from the oven.
To make the pumpkin layer: In a medium sized bowl combine sugar, pumpkin, evaporated milk, eggs, and pumpkin pie spice. Beat for about 1-2 minutes. Pour over crust. Bake for 20 minutes. Remove from oven.
To make the pecan layer: Combine brown sugar and pecans. Sprinkle over the filling. Continue to bake for 15 -20 minutes or until knife inserted in center comes out clean. Cool completely and top with whipped cream.
Recipe Slightly adapted from
Nestle
3.4.3177
I am Alyssa and the blogger behind The Recipe Critic. I started my blog in June of 2012 as a place to share my passion for cooking. I love trying new things and testing them out with my family.